There are many Corporate Audio Visual Suppliers in business today and they may all look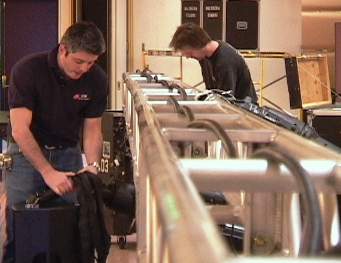 the same to meeting and event planners. Worse yet, many AV companies may be selected on price alone because planners are under such pressure to bring the budget in at or under plan.
Before going down the price-only continuum, please consider the following questions and comments for event rental services:
How long has this corporate audio visual supplier been in business? This statement goes directly to experience and will help planners with the due diligence process.

How many offices does the event rental services company have and what is their travel radius? Knowing this is especially usual if a company is planning a multi-city meeting and/or a satellite or videoconference.

Google the company and look hard at their online reviews. Many corporate audio visual suppliers have reviews posted on Yelp, Yahoo Local, and Yellow Bot just to name a few. Even if there are a few negative postings, see what the overall star rating or trend is for the organization.

How current is their Audio Visual rental equipment? Planners want to rent audio visual equipment that is up-to-date. One of the reasons an event rental services company may be quoting low is because they are using old technology. Insist that the type and model number of the equipment be on the RFP.

Find out the back-up plan in case of equipment failure at the event. Do they have an after hours support line?

Ask around. Go to LinkedIn Groups, Professional Affiliation Organizations, and fellow planners for their Corporate Audio Visual Supplier recommendations. Read their lips. If an organization doesn't come right up and the recommendation is not glowing, go with your gut and pass on that vendor.

Make certain the event rental services company has provided audio visual rentals for your type of event before. Don't hire a wedding supplier for a conference and vice-versa.

Provide a written RFP to each vendor and give them plenty of time to ask questions and give the planner a quality response. Nothing is worse than a RFP with a 24-hour window! Give the event rental services company ample time to respond and respect that they may have valid and useful questions.
AND LASTLY "Do they care about your event as much as you do?" After all the due diligence, pricing, and reviews, as a planner it is important that your gut tells you that this corporate audio visual vendor can do a GREAT job for you. After all, AV is usually a large portion of any meeting or event. The Audio Visual Supplier needs to be just as vested in making the event a success as you do.