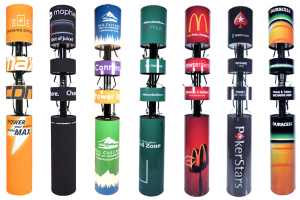 Charging stations for smartphones and other devices now come in all shapes and sizes. Planners love them because they're highly sought-after amenities for event attendees that often pay for themselves through sponsorship revenue. But, to find the best fit between sponsor and charging station opportunity (they can be wrapped, branded, and interactive, for example), event organizers have to ask some specific questions of sponsors.
What's your budget? Because the distance between a company logo stuck to the side of a charging station and an interactive charging "experience" is so big, budget can help to significantly narrow down the choices for the sponsor. And, while all sponsored charging stations have impact, a larger budget can help sponsors achieve a larger impact through more stations placed strategically, higher-priced units with more surface area to brand, or multi-functional stations (video, for example).
Why did you select a charging station sponsorship? With so many other sponsorship options, it's important to understand what the sponsor is after. Perhaps they have a product or messaging that could be easily associated with charging stations, for example, "we're here when you need us," (insurance) or "charge all you want," (credit cards). These sorts of connections (pun intended) open the door to a wealth of creative solutions for complementing an existing campaign.
Who are you trying to reach? Charging stations are, on the surface, fairly straightforward as sponsorship opportunities go. But, sponsors are much more savvy today than in the past. It's worth asking them about their target audiences—demographics, interests, and motivations—in order to craft activations that resonate with those attendee types. For example, a high-end unit placed in a VIP lounge restricted to CEOs could broadcast financial news and sponsor video. What are your marketing goals? There are common responses to this question when asked of sponsors, including brand awareness, leads, outreach to a specific audience, or launch of a new product. Any one of those answers can lead your sponsorship team down a different road. A brand awareness goal might be delivered through wraps, imagery, or messaging on the kiosk, a new product could be heralded by building a structure (simulating the product shape) around the kiosk.
What does success look like to you? More sponsors are looking for ways to measure the value and return from their sponsorships. So, it's critically important to determine ways to measure them. For instance, if a sponsor wants actual feedback from attendees, a charging kiosk that requires a completed survey in order to access the charging station is an option. If the desired metric is leads, the branded kiosk can be accessible using a code obtained at an exhibit booth.
Asking these questions is  important for the sponsor and the event. Enhancing what could be considered a commodity (charging kiosks) through branding, appropriate feature sets, placement in the event, and other types of customizations, can make them more desirable to sponsors and (at a variety of price points) more lucrative for organizers. For more information on how to build sponsorships around charging kiosks, contact the team at Smartsource Rentals.
Make the most of your sponsorship dollars. Use this Charging Station Comparison Chart to choose the right charging station.