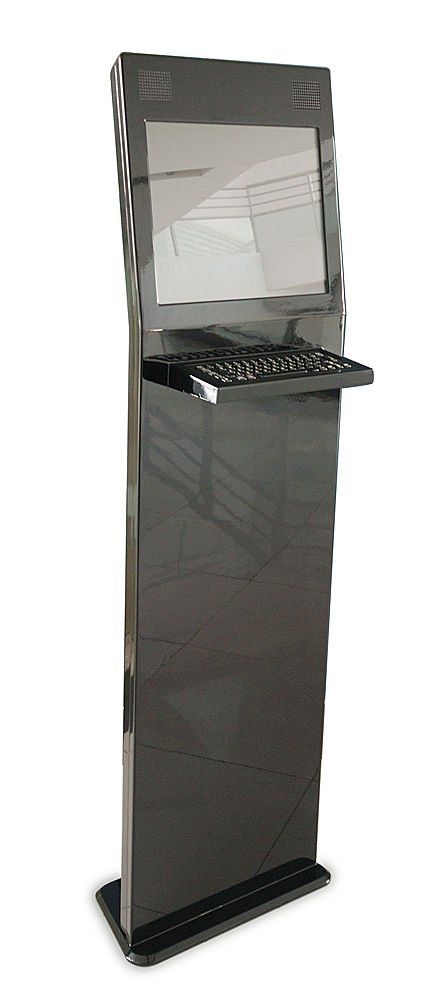 A computer kiosk rental is a stand-alone PC with a locked integrated housing unit. The terminal usually contains a monitor and keyboard or pointing device, unless it is touch-screen operated.
A computer kiosk is designed to be a "self-service" unit. This means users do not have to know anything about the computer itself or the applications that run on it. The event meeting services organization should make certain that all applications on the computer kiosk are highly intuitive. The best way to test this is to have someone who is afraid or unfamiliar with computers try out the various applications.
A number of kiosk rentals could be placed in a variety of locations throughout a large conference or event. Many touch panel kiosks could be running the same application, but a few may be running different applications. The main intention of utilizing a computer kiosk is to allow for more fluid movement of the attendees and to allow the  conference services organization to employ fewer employees to manage the event.
Here are some great applications for a kiosk rentals at your next event or conference:
Welcome Message
Information about Agenda, Speakers, and/or Conference Room Directions
Short Videos on Speakers, Launches, and/or Entertainment
Check-in to Event for those Pre-registered
Walk-in Self-Registration with Credit Card
Who to Call for Support or Questions
Photo Booth
Neighborhood Maps with:

Local Restaurant Listings
Entertainment
Walking or Running Paths

When Departing the Event, check-out with Survey
Internet Access for:

Flight Information
Weather
Traffic Update
Call AV Event Solutions, a California meting services company, when you are thinking of computer kiosks or any interactive technology tool rentals. Our technology experts can recommend the best touch panel kiosk for your next conference or event.