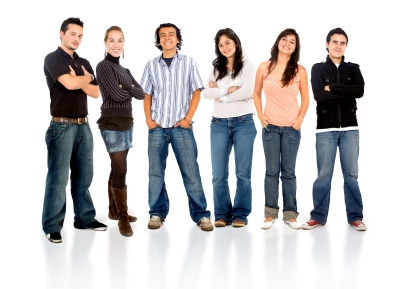 The PCMA Education Foundation recently commissioned 3 professors from Eastern Carolina University to survey almost 2,000 individuals between the ages of 18 – 30. The goal was to:
Understand what meeting characteristics are important to Millenials
Find out what motivates them to attend a conference or meeting and
Determine what communication methods work best
Below, is Part 1 which will cover the characteristics and identifies how interactive technology tool rentals can help you reach and keep Millennials at your meeting.
Each respondent was ask to rate the following statement on a scale from 1 to 5, where 1 was "not at all" and 5 was "very much". 42 questions were asked and each answer was intended to describe or characterize them. Here were the top 5 responses:
Survey Said…74% Respect Authority Very Much.
What does this mean for planners? You need to make certain your speakers are knowledge deep. These attendees will whip out their smartphone, Google the presenter, and see for themselves if the speaker knows what the heck they are talking about. If you book subject-matter authorities that are important to your audience, you will win this group over, every time.
Survey Said…73% Like Education with Entertainment.
What does this mean for planners? You will need to vet your presenters and facilitiors even better than before. This means they will enjoy gamification applications, speakers that tell stories, and make them laugh.
Survey Said…68% are Internet proficient.
What does this mean for planners? This is the digital generation. They grew up with computers, gaming system, and cell phones. Wi-Fi has never been a luxury; it has been apart of their lives for as long as they can remember. Having a fast, secure, and robust Wi-Fi network array rental will be vital to the success of your meeting.
If you want to make this group of attendees feel like they are an authority, team them with individuals at your conference who may not be as Internet proficient — such as Baby Boomers.
Survey Said…67% Like Activities They Will Personally Benefit from.
What does this mean for planners? Building an agenda full of great content that is geared toward WIIFM (What's In It For Me?) mentality will resonate with this group. They will want to learn more about their industry and network with the power players — all while feeling like the conference was personally tailored to their needs.
Survey Said…65% are Visual Learners.
What does this mean for planners? Implementing video, photos, and color within the presentation services audio visual offerings is going to be key to helping the Millennial focus and retain the information presented. Having other methods to keep the visual messaging going such as Video Wall rentals, computer kiosks, and iPads will help further the learning process for the attendee.
AV Event Solutions, a California event services company can provide you with iPads, kiosk rentals, Wi-Fi network arrays and much more! Check out their express quote form to get started!
Don't forget to check out Part 2 – How to Capture and Keep The Elusive Millennial Attendee on Friday, August 17th to learn more about Millennials.