Who doesn't love a fast-moving onsite registration check-in line? For planners, it's a badge of honor. For attendees, it's a crucial time saver. At some large events, getting attendees through the line at the convention center quickly is nearly impossible. One way to speed up registration and check-in is to set up remote registration sites—in hotels, airports, mass transit stations, or anywhere. It requires some planning, but with the right equipment and process, it can transform the attendee experience.
Setting up a satellite registration center outside the convention center
Mega-events like the Consumer Electronics Show with well over 100,000 attendees rely on remote registration and check-in locations. Satellite registration areas set up in airports and hotels help
them handle the sheer numbers of registrants. While event planners have to take a number of things into consideration when developing a strategy, Wi-Fi or an Ethernet connection is critical. It's required to access the registration software and connect badge printers and laptops to one another. Such a requirement may rule out some locations. A local area network is another option if onsite connectivity is deficient.
To staff and equip remote locations, planners have to first determine the level of capabilities the site will have:
Full-service registration and check-in: attendees collect badges, event tickets, lanyards, directories, ribbons, beacons, tote bags and other items. This configuration requires more labor (bringing in all the supplies and restocking as needed) and more space.
Registration, check-in and badge/ticket distribution only: attendees collect badges, events tickets, and lanyards. Directories, tote bags, ribbons and any other items are picked up at the convention center. This option is less labor intensive and takes up much less room.
Self check-in: attendees check in via an event-branded kiosk with software that allows them to view and change registration information, provide a signature, have their photos taken, and receive a printed badge. It doesn't require personnel and has a tiny footprint.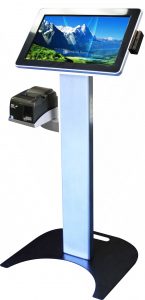 Once the capabilities of the satellite are determined, planners can then decide how many laptops, scanners, and badge printers are required. Most remote check-in sites are small because of space constraints. And because badge printers can print a standard badge in about four seconds, one printer is adequate in most situations. The only other equipment required is a barcode scanner and laptop for attendees who arrive without their barcoded confirmation or want to register onsite.
Bringing remote registration to VIP attendees
Rather than require attendees to go to a remote registration area in the airport or hotel, it's also possible to bring check-in services to them. Using a tablet with cellular service to access the registration/check-in software, a conference representative can meet and greet a VIP in the baggage claim area. He can also walk up and down the aisle of a shuttle bus checking in attendees while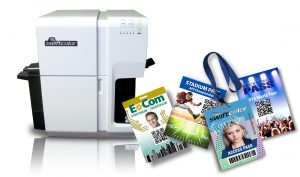 they're in transit. The software relays information to the next stop where attendees can receive their pre-printed badges and other items. An oversized credential printer in place of a standard thermal badge printer could be a nice upgrade to this type of VIP experience.
Remote registration hubs within the convention center
Sometimes planners require that one or more additional registration hubs—a scaled-down version of the main registration area—be set up within the convention center. They too require Internet connectivity in order to access the registration software. Some common use cases for these hubs include a setup in the speaker-ready room, VIP guest lounge, or media room. In very large venues, hubs can help reduce lines in the main registration area and make it easier for attendees to check in without having to walk long distances. Laptops, badge printers, and scanners are the only pieces of hardware needed. Self-service kiosks can be useful in these settings too.
Additional considerations for remote registration
Equipment, location, and logistics aren't the only considerations when planning remote registration. Most configurations require personnel to be present or nearby, which adds to the cost. Equipment security can be an issue in some locations (placing a self-service kiosk in a subway station may not be the best idea). Good signage, location maps inside the event mobile app or online, and pre-event communication will help guide attendees to these options. Deciding on locations requires some analysis of attendee behaviors. Planners may elect to collect arrival and hotel information during the pre-event registration process. And as with all decisions, cost-benefit analyses are crucial. To plan an effective remote registration strategy, contact the registration experts at SmartSource Rentals.
Check out this additional Industry Resource:
The Convention Industry Council has issued a report on registration and housing best practices. It is a must-read reference guide for event planners.