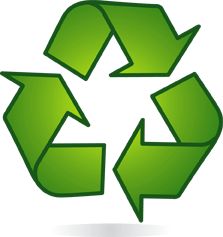 "Greening" an event or meeting involves all aspects of the planning process, including a detailed collaboration of everyone, from planner to supplier, from venue to attendees. Below are some tips to make your next event much greener, thus improving your Corporate Social Responsibility (CSR) and image.
Renting Audio Visual Equipment
Use kiosk rentals for digital signage, advertising, and sponsorship promotion instead of a printed program that also needs to be shipped to the event.
Eliminate or limit paper. Instead incorporate Audience Response System rentals for surveys, feedback, or training purposes. Rent Tablet PCs, iPads, or laptops and download the prospectus and sponsorship information onto these devices.
Renting AV equipment is earth friendly. It promotes the element of reuse.
When contracting equipment, rent local. Locally owned companies stimulate the economy by creating local jobs. In addition, by renting local there is no shipping or long-haul trucking of equipment, thus reducing carbon emissions.
Meeting Room
Use cloth tablecloths and napkins.
Choose centerpieces attendees can take home and use, such as potted plants, fresh cut flowers, or fruit.
Ask that the hotel or meeting venue to NOT put out pads and pens at every seat.
Food & Beverage
Have the caterer or hotel use china and glass; no disposable items.
No bottled water; the bottle usually ends up in a landfill because most people throw the bottle away even when there are recyclable containers in view. Have pitchers of water, juice, or aluminum cans of soda available.
Set up recyclable disposable bins next to the garbage and encourage its use often.
Transportation
Reduce carbon emissions by encouraging and participating in carpooling.
Let attendees know of all the alternative ways to get to the meeting and post those ways, with phone numbers and website URLs, on event host's website.
If appropriate, encourage cycling and walking to event or during free nights at the conference.
If event planners implement one or two the items listed above, carbon emissions will be reduced, trees will be saved, and in the end, costs will be cut from the event organizer and attendee's prospective. This information is an excerpt from a new ebook coming soon to
AV Event Solutions
called "
How to Incorporate New Tools and Technologies into Events and Tradeshows
." Look for it very soon!
Look to AV Event Solutions to provide your organization with interactive technology tools that will help promote social responsibility and save Mother Earth! Call them today!