The market for computer kiosks continues to expand despite the global recession as the uses for the devices grow and the public embraces the self-service concept, according to the newly-released Eighth Edition of Kiosks and Interactive Technology – Global Statistics and Trends – from Summit Research Associates.
The industry has benefited as new applications are launched and older kiosk models are replaced. In addition, public attitude towards self-service and using a kiosk has changed from wariness to one of confidence and comfort, the report finds.
When might you consider kiosk rentals?
Computer kiosks are ideal for industry events, corporate meetings, and really set the tone for a product launching events.
What are the top uses for computer kiosks?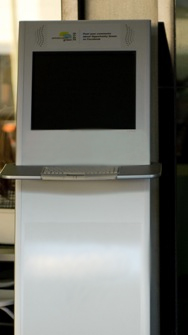 Welcoming Message for Attendees
Product Launching Event Video Demonstrations
Surveys about the Event
Digital Signs directing participants to various sessions
Automated Registration
Information Stations
Floor Plans and Booth Locators for Trade Shows
Maps of the City including Hot Spots
Advertising and Sponsorships
Email Access for Attendees

How can Kiosk Rentals be customized?
Kiosk rentals can be customized with one or more of the following ways:
Keyboards and mice for Internet applications and Email
Web cams can be used for fun or facial recognition of attendees
Wireless printers can be used for printing off information relevant to the event

Headsets for loud areas where the kiosks may be positioned, like a lobby
What are the Top Benefits of Kiosk Rentals?
Save money by lowering staff requirements to register attendees and/or answer questions

Welcome attendees 24 hours per day

Providing a green initiative by eliminating paper registration

Increasing revenue through advertising and sponsorships
What are the benefits of renting kiosks from AV Event Solutions?
AV Event Solutions will provide your meeting, event, trade show, or product launching event, with state-of-the-art kiosk technology and will:
Set up and collect the Kiosk when the event is over
Provide a variety of kiosk configurations
Assist you in choosing the right kiosk rentals
AV Event Solutions work with California event meeting services organizations. Call us today to speak with our knowledgeable kiosk staff!