When considering interactive technology tool rentals, you need to think about how you might use them at your meeting or event. Lets explore four of these technologies: computer kiosk, wireless audience response system, iPad, and Tablet PC.

Computer Kiosk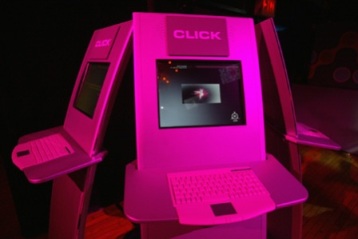 Computer kiosks function just like a PC and feature an intuitive touchscreen interface. These units are extremely popular at trade shows, association meetings, and product launching events. Some of the applications they are used for are:
Internet and email access for attendees

Information center: The event meeting services organization can load meeting agendas, speaker profiles, and more on the kiosk.




Interactive digital signage to direct attendees to various breakout sessions




Event registration and check-in




Product and/or service demonstrations
Audience Response Systems
Wireless Audience Response Systems are small touchpad devices used in many meetings and events. Some of the more popular uses are:
Product Launching Event: Motivate and engage your audience while certifying learning and increasing retention of key messages.

Focus Groups: Give every participant a chance to have their say, providing valuable insight into the thoughts and feelings of the entire audience.

Training & Certification: Teach them and then test their knowledge.

Hybrid Meetings: Wireless Audience Response Systems can work with live and online audience simultaneously to create the ultimate meeting.

Member Meetings, Elections, and Shareholder Meetings: Vote without collecting paper tallies
iPad
When does it make sense to rent iPads? More and more participants do not want to lug their laptop to a meeting, and more and more event meeting services applications are being written for this platform. Some common applications are:
ShowGuide application provides conference attendees a convenient tool to navigate conferences without having to carry bulky printed guides.

Audio Office Notes uses tags so you can jump to the important parts of an event instantly, without listening to the whole thing.

Grupio provides instant access to event details, social networking (Facebook and twitter), live updates from organizers and more. As an attendee, you can access event schedule, sessions, speakers and exhibitors.

SoundPaper is the best way to take notes in meetings. It tracks what you type while recording audio, so you'll never have to worry about missing anything.
Tablet PC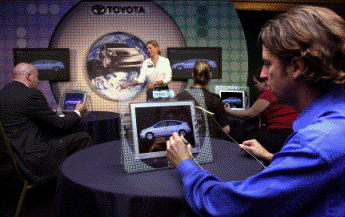 When considering whether or not to rent Tablet PCs, think about your audience. If they are primarily MS Office users and have laptops they will probably carry to the conference, you are probably better off renting Tablet PCs and asking them to leave their laptops at home. A Tablet PC can provide your audience with the following:
Run all the Microsoft Applications on the Tablet PC and upload it to the main computer or save on a USB drive

Annotate Microsoft PowerPoint presentations with the stylus

Sketch ideas

Create handwritten notes and drawings

There is no physical barrier between attendees, unlike a laptop screen

A Tablet PC is as inconspicuous as a notebook and the notes are searchable as typed text.
Looking for an event audio visual rental company? Look no further than AV Event Solutions!