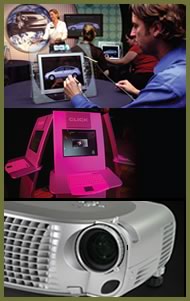 When should you consider renting audio visual equipment versus purchasing it? If you're not using the technology every day it may benefit your bottom line to rent. Here are four tips that may have you reconsidering renting vs. purchasing.
First, how often are you giving presentations?
If it is every day or several times a day, it may make sense to purchase the technology. However, if it is once a month or less, or your presentation schedule is very sporadic, it probably makes better sense renting audio visual equipment. Many of the interactive technology tool rentals can be negotiated on a daily or weekly rate.
Second, what is your back-up plan?
What happens should the projector bulb burns out or the Powerpoint presentation equipment fails? If your organization does not have a need for multiple projectors or laptops and does not have the on site technology or audio visual staff to support you, I would strongly urge renting the equipment and ensure back-ups are in the contract with no additional charge to you if the equipment fails.
Third, what is the total cost of ownership (TCO)?
This must be considered when buying a substantial piece of hardware or software. How much is that next lamp bulb going to cost? When is it likely to be replaced? What happens when the equipment is damaged prematurely and needs replacing right away? What about keeping up with technology improvements such as 3D Projectors, 4G iPad or Tablet PC? If you engage in interactive technology tool rentals for an event, those long term maintenance, and repair costs are not yours to worry about.
Fourth, where are you going to store and transport the equipment?
Storing projectors, screens, wireless audio response systems, all take space and must be stored in a secure setting to prevent theft. If you work in a large corporation, who is going to set up, tear down, store and inventory the equipment? When traveling to different offices and customer locations, audio visual equipment will add considerable weight and bulk to your traveling entourage. If you are flying to a location, you may need to carry on some of the equipment for fear that it may break during transport or be stolen.
Audio visual rentals, on the other hand, are brought directly to you at the event location by the event rental services organization. The rentals are handled with care and packaged in the highest quality containers which ensure the absolute minimum of potential damage to their moving parts.
Having the capability to make quality presentations is definitely standard operations for many businesses. So before investing in audio visual technology, make sure you answer the questions noted above. If you decide to rent, partner with AV Event Solutions, a California event planning company, that offers audio visual rentals and the latest interactive technology tools.