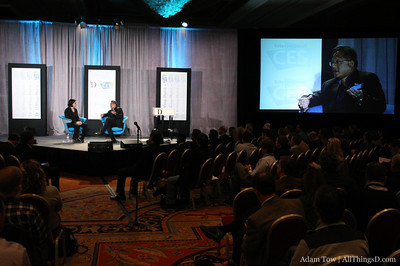 On May 29-31, The Wall Street Journal's "D: All Things Digital" conference was held in Rancho Palos Verdes, a suburb of LA. This conference attracted big name speakers such as: Larry Ellison, CEO of Oracle, Michael Bloomberg, Mayor of New York City, and Tim Cook, CEO of Apple, just to name a few.
BizBash recently interviewed Lia Lorenzano-Kennett, General Manager at All Things Digital/The Wall Street Journal to learn how they made this conference successful. Below is a synopsis of the interview and some key takeaways for event meeting services organizations.
What do you attribute to a sold-out conference?
Lia stated the following items made this conference a must-go, even in a down economy:
Relevance of the speakers to the attendees
Quality of the on-stage program
Networking opportunities
No PowerPoint presentations or canned speeches. Trained journalists conducted onstage interviews with each speaker, asking direct and sometimes difficult questions.
Very high editorial standard, just like the website and newspaper
No sponsors allowed on stage. No selling during the speaking portion.
Event Planner Takeaway:
Make certain your speakers match your attendee needs.

Give your attendees plenty of networking opportunities.

Consider eliminating canned presentations and work toward more interactivity with the audience. Have highly trained moderators to keep the conversation moving on track.

Keep your standards high and concern yourself with content.
What is your speaker protocol?
Lia stated they have executive producers that secure the speakers. Once onsite, speakers are encouraged to attend the entire conference…as an attendee. They strive to create a classless society and even when Bill Gates and Steven Jobs spoke at the meeting, they sat in sessions and participated in group meals.
Event Planner Takeaway:
​Have a committee to secure speakers and encourage your presenters to come early and stay late. Often times the best questions and conversations happen in a informal setting, such as a meal or reception.
How do you draw the right sponsors?
This conference has a very high retention rate and many sponsors renew their contract, year after year. They treat their sponsors like partners instead of vendors. They try to provide a great value to the sponsor by meeting THEIR marketing objectives, whether it be brand awareness or promoting a product launching event. Lia says they work with each sponsor to create a personal and engaging experience for their attendees.
Event Planner Takeaway:
Try and build a long-term relationship with your sponsors by understanding their objectives for the conference. Be creative by making the experience engaging and fun for the attendee. Strive for a high retention rate.
What about technology?
This year they created an app providing the agenda, speaker photos and bios, maps, locations, online comments about the program, and messaging among attendees via a mobile device.
Event Planner Takeaway:
Rent iPads or Tablet PCs for mobile meeting apps. Sponsorship information can be loaded onto these devices as well.
Why LA?
Lia stated that the West Coast is ideal for them for the following reasons:
A large number of available guest rooms
The amount and layout of the meeting space is ideal
It is easy for executives to get there, even from the East Coast
Mild weather and scenic views
Event Planner Takeaway:
Look closely at what your attendees need and want in the conference. Look at all the standard venue items, but taking a hard look at what the region has to offer the attendee is also important.
AV Event Solutions is a California meeting equipment supplier that has state-of-the-art inventory! Whether it be renting iPads or Wi-Fi network arrays, AV Event Solutions has the right equipment to meet your needs!