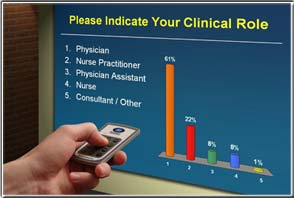 Audience Response Systems
(ARS) give you the power to transform any meeting into an interactive and productive gathering from boardrooms to conventions and from companies to associations.
How does audience polling work? Wireless Audience Response Systems transmit wireless feedback from attendees to event organizers with a simple press of a button. Real-time results are then displayed on graph or chart in the front of the room. Audience Response System rentals are great for:
Association Conferences: ARS units are perfect to evaluate presenters in meetings and/or allow the speaker to gather information about the audience to better tailor the presentation.

Business Organizations: In organizations where a lot of training goes on, Audience Response Systems can be used to pre- and post-test employees on their knowledge base and retention. In addition, trainers can learn what works and what doesn't with employees and tweek the training as they go along.

Sales Meetings: When completing a product launching event where new concepts and terms are being delivered, renting audience response system will allow the company's managers to determine if the sales force has sufficient knowledge of the product or service to roll it out to their clients, or they are in need of more information.

Focus Groups: In a small group setting, these polling devices can allow market research professionals to determine what the group likes and dislikes about the new product or service. In addition, feedback is anonymous.

Surveys: This can be used in a plethera of ways. Wireless Audience Response Systems can be utilized with the presentation to allow the speaker to alter their talk. In addition, it can be used to evaluate the speaker, the conference, and even the tradeshow. Because the information is gathered onsite, at the meeting, all the data is fresh versus taking an online survey days after the conference is over.

Strategy Sessions or Board Retreats: Executives can use the wireless keypads to vote on the organization's priorities for the coming year.

Market Research: As a consumer tool, a company or organization could show the audience a commerical, video, or display of photos, and analyze the audiences retention of that information.

Annual Meetings: In particular with public stockholder meetings, ARS units can allow easy voting of Board of Directors, company initiatives, and the ability to gather audience feedback about future strategies.
The benefits of using
ARS
technology include:
Increased participant understanding
Increased attendee attentiveness and participation
Ability to gather and report critical information in real-time
Easy-to-use technology
Customizable presentation with countdown timers and correct answers
Once the data is gathered, it is stored and there are many reporting options
Can be used in remote locations, to include Hybrid Meetings
Green, no paper
Saves time and effort, event staff does not need to type in the comments
Call
AV Event Solutions
to launch your next meeting with productivity and attendee participation with Audience Response rentals. AV Event Solutions staff is pleased to provide you with a free, complete quote and answer any questions you may have about this technology or any other
audiovisual rental equipment
.