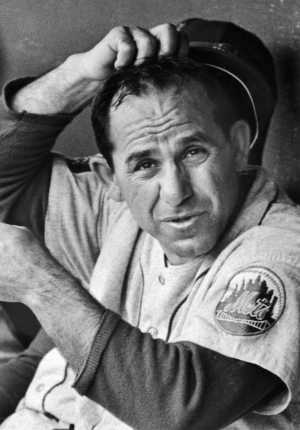 Ah..spring! The daffodils are out, the days are longer, and baseball season is in full swing. When I think of baseball, my mind often gravitates to great players such as Sandy Alamar, Johnny Bench, and Cal Ripkin, Jr.. But one player that probably is quoted the most often is Yogi Berra. Believe it or not, the funny sayings below can provide useful event meeting services insights. Here are 7 of his best quotes and how they relate to the industry.
"You can observe a lot by just watching." Before deciding on a meeting destination or venue, ask to watch a meeting about the size of the one you are planning in action. Checking out the parking lot, restrooms, kitchen, and how responsive the staff is to the client they are serving can speak volumes to how they will treat you during your event. Don't forget to observe the partners as well. How well did the event audio visual rental company perform? The caterer? The ground transportation company?

"It was impossible to get a conversation going, everybody was talking too much." Do a thorough vetting of your speakers. Do they have too many PowerPoint slides? Do they insist on questions and answers to be held until the end of the program? Make sure there is plenty of time for conversations in your sessions. Make certain the speaker is a great listener as well as a dynamic presenter.

"If the fans don't come out to the ballpark, you can't stop them." Are attendees consistently coming back to your association meetings year in, year out? Is attendance trending up or down? You can't make people come to your meeting (unless it is a mandatory company event) so you need to entice them to come to it and make them feel welcome.

"If you ask me anything I don't know, I'm not going to answer." There are going to be questions at your meeting that you will not know the answer to. Make certain to obtain the name, cell number, and email address of the person asking and tell them when you will get back to them with an answer. Then do it! Being open and honest isn't a good policy, it should be your only policy.

"Never answer anonymous letters." Meeting planners want to gather evaluations about the event via paper or email surveys. The problem with this is it is cumbersome and time consuming. By using wireless audience response systems, planners can poll attendees anonymously and instantly. It isn't so much about an individual response as it is about the overall feeling about the event.

"It ain't the heat, it's the humility." Don't assume you know what attendee's want to hear about at your next conference. Ask, ask, and ask again. About destinations, hotels, speakers, and agenda items. It's not about your organization being right, it's about making the event attractive to the attendee. Be humble and assume they are the expert because when it comes to their own professional development, they are!

"Even Napoleon had his Watergate." Every meeting can potentially have a crisis; natural or man-made. It is important to have a crisis plan, communicate it to the team, and then follow through on it in the event of a catastrophe.
Are you event planning in California? Call on AV Event Solutions to provide you with Audience Response rentals as well as other state-of-the-art audio visual equipment. Give them a call today at 888.249.4903 for more information.