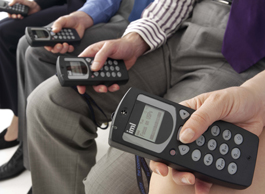 Have you ever noticed how much more you learn when you are involved in the learning process?
You have heard of Audience Response Systems (ARS), but you are probably wondering…

Is it worth the investment or will it be a distraction?
In a recent poll of corporate event planners, over 40% of the audience at their meetings felt the event or conference was "a waste of time" when lectured to by a presenter. In the same poll, 90% of those planners said that will be using Audience Response rentals in future meetings they plan because attendees are more engaged, ask questions related to the presentations, and are generally excited to be at the meeting.
Powerpoint presentation equipment can be easily integrated with ARS that allow presenters and trainers to ask attendees interactive questions. These questions are usually typed into a PowerPoint slide and posed to the audience. The audience then uses their hand-held keypads to respond to the questions in real time. Once the system receives all the responses, this data can be displayed in graph format real-time or stored in a report for future analysis.
Audience Response System rentals are simple to set up, easy to learn, and very intuitive. ARS components consist of the following three things:
Software
Radio Frequency Keypads and
USB Receiver
Who Uses Wireless Audience Response Systems?
Presenters to:
Make their lecture interactive
Reinforce key presentation points with knowledge based questions
Poll the audience on what they think about the subject matter
Adjust presentation quickly
Allow audience members to respond honestly and anonymously
Trainers for:
Pre- and post-training testing
Engage participants in competitive games
Team building exercises
Real-time feedback on ideas and topics
Event Meeting Services Organizers to:
Survey the audience about the event
Eliminate paper surveys by conducting speaker evaluations electronically
Provide feedback among participants even with hybrid meetings
Allow audience members to participate anonymously
Sales Managers to:
Evaluate the team's product knowledge and sales profiency
Survey prospective and current clients about decision making timeframes
Gain anonymous feedback during product launching events
Human Resource Managers for:
Conducting employee polling about new or existing policies
Use as a screening tool for new hires
CEO or Board of Directors for:
Voting and Elections at Annual Meetings
Eliminate paper ballots and vote-counting time by conducting elections, by-law, and amendment changes electronically.
Benefits of Audience Response Systems
Increases Presenter's Effectiveness
Keeps Attendees Engaged in Presentation or Training
Identifies the Audiences' Understanding of the Topic
Incorporate wireless Audience Response Systems into your next meeting or conference and the attendees will stay more focused and alert, maintain a higher level of interest, and participate in the presentation. Let
AV Event Solutions
work with you to design your audience response program and your next event will be a real winner!