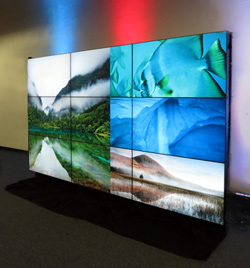 A year ago or more, the prospect of digital signage was overwhelming to an event meeting services organization. It was so much easier to order expensive one-time use posters, plastic signs and hire staff to direct and answer questions of attendees, exhibitors, and speakers.
But this is not the case any longer.
With the cost of technology coming down and massive improvements in IP-streamed video, digital signage will become more and more the norm within the event industry. Lets focus on the 6 benefits of digital signage — which can be implemented through video wall rentals or computer kiosks.
Display Real-time Information that is Easily Customized from a Central Location.

Having a speaker cancel, last-minute room change, or weather advisory can be very difficult to convey to the masses in a non-digital world. But by having all your signage controlled through a central system, these messages can be handled via a computer and changes can be made as often as you like.


Placing the Video Wall and Touch Panel Kiosks in Strategic Locations Can Create Natural Gathering Points for Attendees.

If attendees know the video wall or kiosk is going to be a constant source of information and entertainment, they will gather before them, garner the information, and make a decision –whether it be — what session to attend next or what restaurant to eat out at that evening.


Speaker Video Feeds can Bring More People to Their Sessions.

Providing running videos of your presenters during breaks and non-meeting times can allow attendees to get a feel for the speaker's presentation style and knowledge level.


Live Video Feeds can be Displayed.

If attendees need to step out of the meeting room to take a phone call or are running late to a session, they can view a live feed of what is going on from the foyer or lobby of the venue. This is a particularly popular application of this technology for keynote speakers and product launching events.


Video Wall Rentals Can be of Great Help to Your Exhibitors.

As exhibitors arrive, they can obtain a virtual tour of the exhibit hall, see where they need to unload and set up their booth, who to call or tweet for questions and where their staff needs to go to get registered.


If You are Conducting a Hybrid Event, Information on the Wall or Kiosk can be Viewed from the Remote Attendee's Mobile Device.

This allows the virtual attendee to feel more connected to the event and get a feel for the energy level at the meeting.
AV Event Solutions provides video-enabled digital signage through video wall and kiosk rentals, as well as, Wi-Fi network array rentals that can support the network infrastructure. Check out their website today to learn more about their great offerings!