Remote production studios made a lot of sense during the worst of the pandemic. They offered virtual event producers television-quality broadcasting while safeguarding the health and safety of the presenters and crew. Now that hybrid events are emerging, there are even more reasons why an off-site studio can be an asset.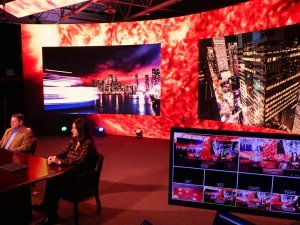 Broadcast quality matters.
When a presentation must be high quality—the new CEO making her first address to the remote workforce, for example—and the company does not have the equipment and personnel in-house, using an off-site production studio can help her get the best results.
Restrictions prevent travel.
COVID-19 has made some travel impossible. But there may be other reasons why a politician, celebrity, or VIP cannot make it to an important meeting or conference—security or environmental (climate activist Greta Thunberg took a sailboat to a meeting at the United Nations in 2019) concerns, Visa restrictions, or a disability. A professional production studio can help them deliver their message despite the travel challenges.
Creativity is a requirement.
Remote production studios have all the bells and whistles—high-definition, high-quality audio and video equipment, production professionals, control room, staging, screens, and post-production facilities. Whether it is projecting your VIP as a hologram, placing him inside a virtual reality experience, or applying special effects with a green screen, production studios have what you need to create an impact.
Budget is an issue.
Bringing production equipment, staging, and technicians to a remote location (a speaker's home or office, for instance) to film a keynote presentation can be more expensive than renting space in a fully equipped production studio.
Connectivity is inadequate.
Livestreaming requires reliable, fast internet and broad bandwidth. Not every office or home has what it takes to deliver a consistent, high-quality virtual or hybrid broadcast. A remote production studio can provide a secure, dedicated Internet connection and help prevent hacking (remember Zoom bombing?).
Work from home will not work.
During the pandemic, work conference calls became less formal (less makeup, comfier clothes, more crying babies). However, with virtual and hybrid events, low to no formality coupled with background noise may appear unprofessional to conference attendees. Production studios offer presenters a controlled environment that filters out distractions and allows them to focus.  You want to impress your guests.
Attendees are not the only people that event organizers want to impress. A professional production studio may be the best choice for broadcasting the presentations of high-level executives, hard-to-get speakers, or esteemed guests. Remote production studios work best when the stakes are high and professionalism is a priority.
Related Posts: